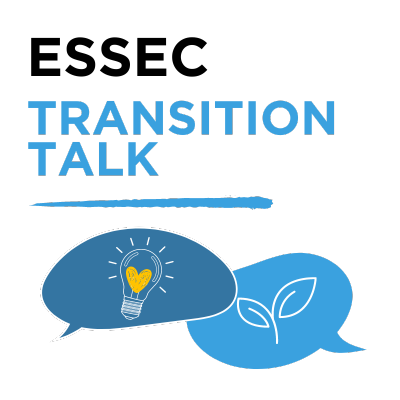 ESSEC Business School launches ESSEC transition talk!
As part of its transformation program, ESSEC invites you to join us throughout the year for debates on a central topic: how can we reinvent organizations with a view to ecological and social transition?
Are non-profitable companies a solution for the transition?
Replay from June 12, 2023
For this first appointment, Anne-Claire Pache, the School's Director of Societal Commitment and Strategy, and ESSEC Social Innovation Chair Professor, will exchange views with Matthieu Grosset, managing director of the Demain cooperative group, specializing in materials recovery, eco-renovation and construction, and professional integration.
They will address the challenges and strategies of companies that are not looking to make a profit, but to combine social and environmental impact with economic balance on a day-to-day basis.
Can we change the world without changing the way we measure performance?
March 22, 2023 replay
Social and environmental transitions are now a matter of urgency, and many organizations have made, or now wish to make, this shift.
At a time when we are hearing more and more about impact, and witnessing the development of a wave of so-called "impact players", funders' heightened expectations regarding the effectiveness of the solutions they support, and the need for stakeholders to better understand their effects in order to better steer their actions, are contributing to the gradual spread of a culture of social and environmental impact assessment.
Will the transition be successful without making this practice widespread and a central steering tool for organizations, on a par with accounting?
Can we finally "change the world" without changing the way we measure performance?
We brought together a wide range of players – social entrepreneurs, funders, local authorities, major groups and researchers – to discuss this issue.